13th March 2010 e.v.
DEIPHAGO - Filipino Antichrist (12" PICTURE DISC)
Finally available after months of delays from the manufacturer... *DIE HARD EDITION*: picture disc vinyl w/: patch, custom diecut jacket, lyrics sheet. only sold through HHR mailorder.
January 2010 e.v.
The ultimate annihilation in audio torture is now at hand! In this time of over-saturated bestial metal, Deiphago blaze their own barbaric trail of Satanic Metal with the most punishing, primitive & bestial attack of 2009!!
With a background of demo tapes throughout the 90's & their debut full-length endorsed by the Ross Bay Cult, the Filipino Antichrist's succeed in making this hi-speed attack even more rewarding than before. No wannabe Fallen Angel Of Doom, no wannabe The Oath Of Black Blood, no Angelcunt or even War Cult Supremacy. Just pure uncompromising, unconventional violence: this is bestiality. Deiphago are the true beasts. Fuck off to the false!!
"Fucking EXTREME album!!!!!!! Furious vocals!!!"
- Deathlord, Blasphemy/Ross Bay Cult
"Filipino Antichrist is fucking INTENSE and rabid warfare noise metal!!! it's so fucking killer!"
- Impurath, Black Witchery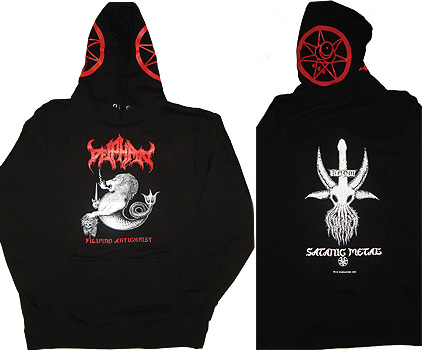 SOLD OUT
*Official DEIPHAGO pull-over hooded sweat shirts with front pocket/pouch (quality FRUIT OF THE LOOM brand). Features front & back print + Crowley Pentagram printed on both sides of the hood. Limited pressing only sold through HHR mailorder.
*REGULAR LP*: 666 copies, black vinyl w/: poster, gatefold jacket, printed inner sleeve
*DIE HARD LP*: 111 hand-numbered copies on "fire splatter" vinyl w/: back patch (petagno art), poster, gatefold jacket, printed inner sleeve
*PICTURE DISC LP*: 222 hand-numbered copies, picture vinyl w/: patch, poster, hardboard jacket, printed inner sleeve
*CD (jewel case)*: 12 page booklet w/ metallic gold print & alternate layout/artwork from Digipak CD
*CD (digipak)*: deluxe 10-panel fold-out digipak w/ metallic gold print & alternate layout/artwork from jewel case CD (limited one time pressing)
SOLD OUT
Official 2-sided DEIPHAGO shirts only sold through HHR mailorder. Only 50 shirts printed on quality FRUIT OF THE LOOM (heavy cotton) brand shirts. FRONT: "Filipino Antichrist" by Daniel Desecrator in gold print. BACK: Satanic Metal doom icon in gold print. Size Small, Medium, Large, XL & 2XL available
SOLD OUT
Official 2-sided DEIPHAGO shirts only sold through HHR mailorder. Only 50 shirts printed on quality FRUIT OF THE LOOM (heavy cotton) brand shirts. FRONT: full color "Filipino Antichrist" Joe "Motorhead" Petagno painting. BACK: Satanic Metal doom icon in red print. Size Small, Medium, Large, XL & 2XL available